South Australia Policeman Jailed For Underage Sex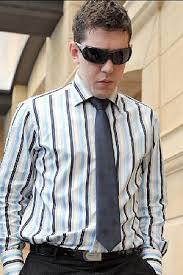 Andrew Robert Macdonald Storr, 24, was jailed in February 2009 for sexually assaulting two underage girls in South Australia.
He pleaded guilty to nine sex offences against the girls, including unlawful sexual intercourse and indecent assault.
Storr sat stony-faced in the dock as he listened to impact statements from his two victims, aged 14 and 15.
Storr was working as a police prosecutor at Port Augusta while involved in a sexual relationship with his second victim.
The girl wrote a lengthy impact statement, telling of her conflicting feelings over their relationship.
"I was watching a current affairs show and the lingo of the pedophile was saying was exactly the way Andrew broke up with me," she wrote.
The girl also told how some parents had stopped their daughters from visiting her home and that they had "sniggered" at her during sports games.
The other victim wrote how Storr had "used my naivety trust and admiration to his advantage".
"I was led into an adult's world … that I was too young to understand," she wrote.
The District Court in Adelaide heard Storr initiated contact with the girls through local theatre groups at Whyalla and Taperoo in Adelaide, and started relationships with them before the sexual assaults took place.
He also took photographs of one of the girls in his police uniform.
Judge Peter Herriman said Storr persisted even when investigations were underway, and had been told by a police supervisor and one of the girls' mothers to stay away from them. The teenager's mother had confronted Storr in 2007 after finding a string of online and phone messages between the pair.
When Storr continued to message the girl, police were called and Chief Inspector Chris Zanker sent a written warning barring him from further contact, which he again ignored.
The judge said the victims felt shame and embarrassment and their schooling had been badly affected.
Storr's family and his pregnant girlfriend cried in court as Judge Herriman set a parole term of one year.
Storr had been suspended from active police duty during his trial.
Source:
Police prosecutor Andrew Robert Macdonald Storr's teen sex shame