South Australian Police Officer Sentenced for Having Sex with 16yo Rape Victim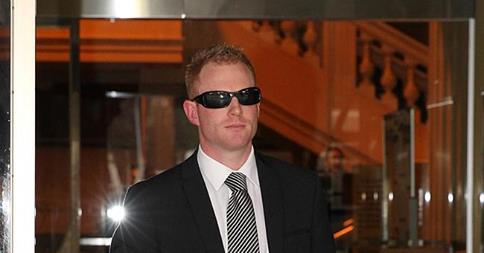 A SAPOL officer at Holden Hill Police Station had sex with a 16-year-old girl just weeks after she reported she had been raped by an older man.
Richard Thomas Jackson, 32 (pictured above), admitted abusing the girl. Jackson had pleaded guilty to unlawful sexual intercourse with the girl in February 2013 after she reported to police that her 30-year-old boyfriend had raped her.
In sentencing, District Court Judge Rauf Soulio said Jackson was delegated as the victim management officer for the girl and took her statement against her former boyfriend when she attended Holden Hill Police Station in January 2013.
"You became aware the girl had become subjected to unlawful and degrading conduct by her former boyfriend," he said.
"She sent you sexually explicit photographs regarding her desire to engage in sexual activity with you."
"You knew her age, you knew that she was sexually active and you knew that she had been in sexual relations with an older man or men."
He said Jackson had picked the girl up from where she was living and taken her back to his house where he gave her alcohol and had sex with her.
He said that in a victim impact statement tendered to the court, the girl said she lived in "constant fear of people who were supposed to protect her" and now has a "profound distrust of police officers."
The court heard that the girl has panic attacks, has gained weight and suffers from a lack of sleep.
"She says that she is embarrassed and she attributes her emotional difficulties to your actions," Judge Soulio said.
He said it was clear the girl had pursued Jackson for sexual activity but he had held a legal and moral responsibility to rebuff her advances.
"… as a police officer, you were in a position of great responsibility, the breach of trust amounts to a circumstance of aggravation."
Judge Soulio said Jackson resigned shortly after the incident and has had trouble finding work since.
Judge Soulio sentenced him to one year and five months jail with a non-parole period of nine months.
He suspended that sentence because of Jackson's early guilty plea, his willingness to complete rehabilitation programs and because he was "unlikely to reoffend."
He also placed Jackson on a three-year, $5000 good behaviour bond and required him to complete 120 hours of community service.
Source:
Police officer Richard Thomas Jackson sentenced for having sex with 16yo alleged rape victim