One of South Australia's Most Senior Cops Shut Down Promising Pedophile Investigation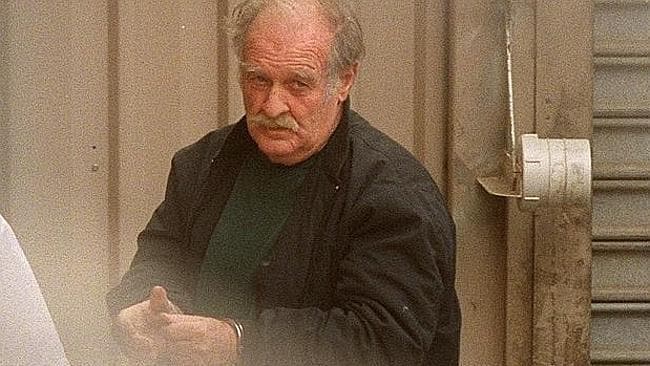 In 2014, a number of South Australian Police detectives told a Royal Commission how Assistant Commissioner Colin Watkins inexplicably shut down a promising investigation into an Adelaide pedophile ring with interstate and international connections.
The Royal Commission into Institutional Responses to Child Sexual Abuse heard how Watkins ordered the termination of Operation Deny after the arrest of pedophile bus driver Brian Perkins (pictured above) in 1993.
The order prevented further victims – and offenders – being identified.
Detectives Angered by Watkins' Order

Watkins' inexplicable directive angered detectives involved in the operation, as they believed Perkins may have sexually abused other students at St Ann's Special School.
The short-lived Operation Deny was established in 1993 and was investigating five Adelaide pedophiles, including Perkins, and their connections to other groups, both interstate and overseas.
Perkins was employed St Ann's as a bus driver and also volunteered in the woodworking workshop.
He was charged in 1993, but fled Adelaide after skipping bail in January, 1994. Although police located him in Queensland in 1998, he was not arrested and extradited back to Adelaide until 2002.
Perkins pleaded guilty to five sex offences against three St Ann's students and was sentenced to 10 years in jail. He died in prison in 2009.
Detective Sergeant Leonid Mosheev told the commission he arrested Perkins within a week of joining Operation Deny in September 1993. Photographs with notes graphically detailing sex with the children depicted, along with lewd letters and videos, were seized in the 1993 raid — but Watkins, now deceased, ordered detectives not to examine any of that material and only focus on the earlier crimes, the commission heard.
Mosheev told the commission he had been in a meeting with the officers involved in Operation Deny when the forward commander Detective Chief Inspector Peter Simons received a telephone call from Watkins.
A visibly agitated Mosheev told the commission that Simons was "told to inform us to cease."
He said the detectives were not allowed to examine any material seized from Perkins when they arrested him, which included a large number of photographs of naked men and boys, or continue further inquiries to identify any other potential victims.
When asked if he was given any reasons, Mosheev replied "no, they would not give us reasons — none at all — and we were really angry and that's documented in the ACB report."
"We didn't know what was going on behind the scenes, but we didn't think it was appropriate," he replied.
Mosheev said there was "so much more to look at" but he could not continue because disobeying a commissioned officer would mean "disciplinary action, possible sacking."
"It was categorical, we were not to investigate, to find any more victims. We were to finalise our current brief of evidence and we were to just finish that off and that was it," he said.
"We were horrified. I mean there was so much more to look at and I cannot disobey a senior officer, particularly the rank of assistant commissioner."
"It was just 'finalise it, we don't want any more work on this, you've got other things to do, that's it'."
"[We were told] not to look at exhibits, not to look at anything further at all. That was my understanding of the instruction," he said.
Detective Senior Sergeant Walter Conte said no reason was given for closing the inquiry, but he had assumed it was due to a lack of resources. "I know there was a lot of anger in the room about the decision because there was still a lot of exhibits that needed to be rationalised," he said.
"Certainly there was room for a continued task force at that time. I think hence people were justifiably angry at the management decision to stop at that stage."
"What was unusual was that there was no real reasoning given. I assumed the reasons for the decision were to do with resources and to put in place some steps to assess what we had at a further point perhaps."
Detective Senior Sergeant Conte said he was angry management ended the investigations when the pedophiles targeted had been arrested, but before other lines of inquiry could be followed up.
Retired officer John Bean said many photos of boys being sexually abused were in the possession of Operation Deny detectives and formed the basis for the arrests of Perkins and three other men.
Watkins personally directed him to complete the investigations in three weeks, despite being told it was insufficient time and that the boys had not been identified, Bean said.
"He told me to find enough evidence to convict all of them in that time or shut down the investigation," Bean said.
When he delivered a final report to Watkins, Bean said his recommendation that Operation Deny continue was not well received. "Watkins directed me to amend paragraph six … to reflect that there is no justification to forming a taskforce," he said in his affidavit. "In those days I did what I was told … especially when it came from … an assistant commissioner."
During the time period 1991 to 1993, Detective Gregory William Ramm was a child abuse investigator stationed at Christies Beach CIB. His initial investigations identified a network of linked pedophiles across Adelaide, interstate and overseas. His discoveries led to the formation of Operation Deny.
"During the Operation Deny investigation," stated Ramm, "twelve child victims were positively identified, but there were over 50 other child victims that were never identified."
"At the conclusion of Operation Deny there were many enquiries still to be undertaken and investigated that resulted from the information uncovered during the investigation," stated Ramm. "I was directed that I was not to investigate the matter any further and Operation Deny was to be closed as an active investigation."
Admin note: Just why Watkins gave the directive to shut down Operation Deny, we'll never know – he has since died. Because it is morally and ethically inexcusable to order the termination of a promising investigation into pedophilia, and because SAPOL has never suffered a lack of resources when it comes to harassing and prosecuting those it takes a disliking to, we can only assume Watkins was deliberately frustrating the investigation to prevent some highly embarrassing discoveries being made: The kind of discoveries that would have implicated influential South Australians, along with prominent interstate and international figures, in the systematic sexual abuse of children.
Sources:
South Australia's top detective shut down investigation into paedophile bus driver Brian Perkins after his arrest in 1993, inquiry told
Top cop halted pedophile probe
Senior police officer 'shut down' abuse inquiry
Detective 'horrified' to discover St Ann's special school sex abuse investigation shut down, inquiry hears
Paedophile ring in Adelaide had international links, inquiry into response to child sex abuse at St Ann's hears
Paedophile ring investigation shutdown 'sparked police anger', inquiry told
Special school abuse royal commission: extraditing paedophile was deemed too expensive, inquiry hears