South Australia Police (SAPOL) is Rife With Sexual Harassment & Predation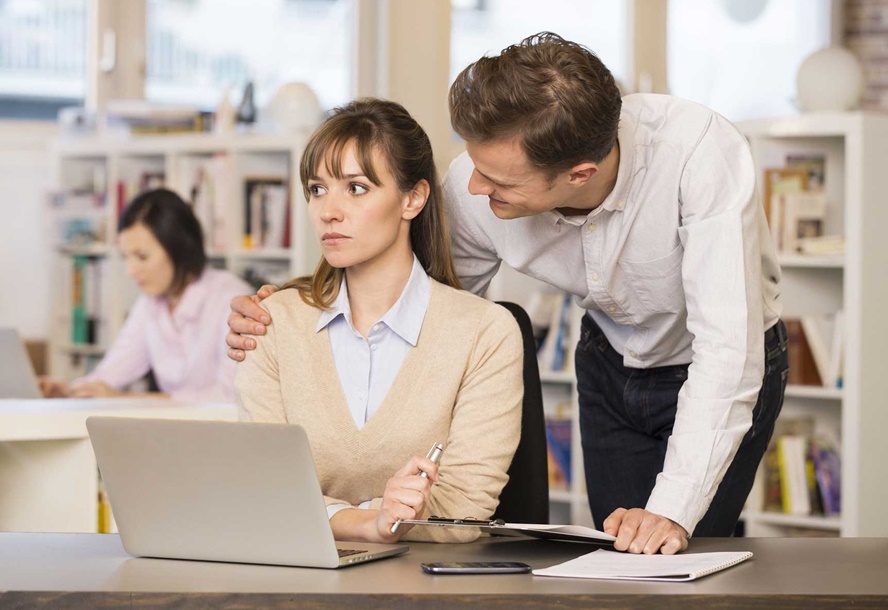 A 2016 report confirmed sexual harassment and assault are rife within South Australia Police.
As many South Australian crime victims have learned the hard way, you can't rely on SAPOL. When your obnoxious, drug-addicted, dole-bludging bogan neighbour-from-hell tries to assault you, don't be surprised if SAPOL tell you they "won't be able to get a patrol car out for an hour or two" (of course, when your patience is finally exhausted and you give him the thrashing he's been begging for, you can fully expect SAPOL to arrive within minutes to arrest you).
When you have a valuable bicycle stolen, and it shows up for sale on Facebook, you can fully expect SAPOL to do nothing. It will more than likely be up to you to ring and pose as an interested buyer, then take the risk of personally repossessing the bike.
When your car tyres get slashed, and you present the police with CCTV footage clearly identifying both the offender and the license plate of his vehicle, expect the geniuses at SAPOL to tell you they don't have enough evidence to guarantee a conviction!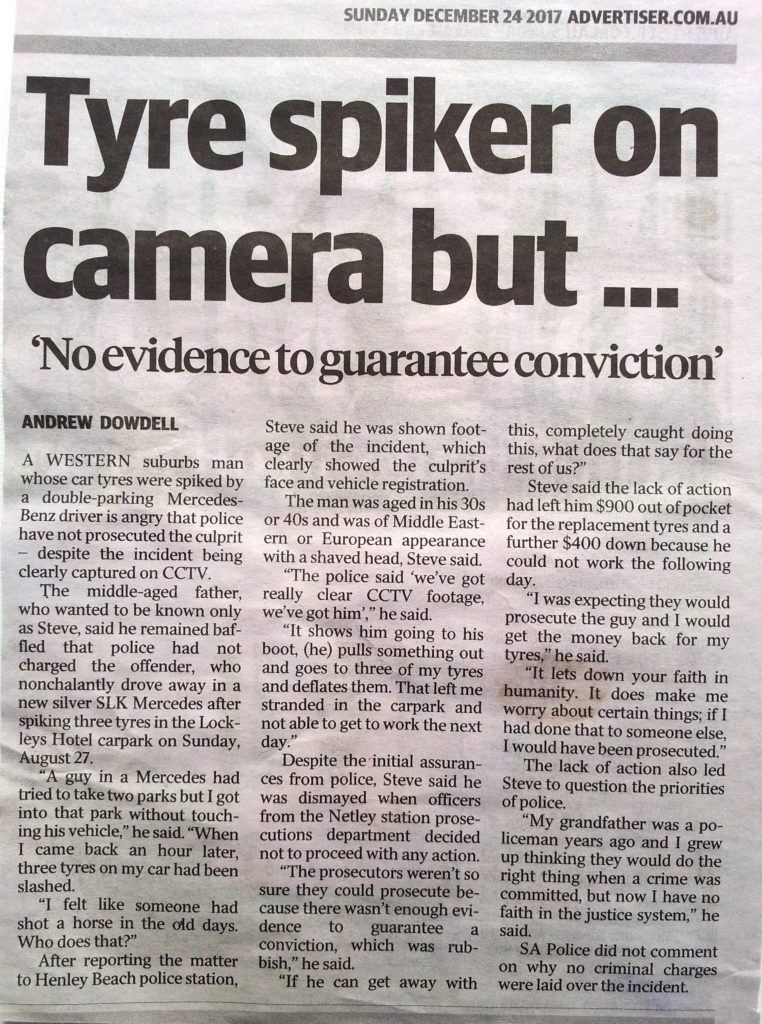 SAPOL's uselessness can have fatal consequences. When Julia Trinne ran to the heinous Norwood police station after realizing her mentally ill husband had taken the couple's four-year-old son Luca, she was forced to wait outside until 8am despite frantically screaming and banging on the doors for 30 minutes. "I could see people in the station but they would not open the doors because it was not opening time," Ms Trinne said. While the arrogant Norwood police initially ignored her, then dilly-dallied about taking her complaint, her husband stabbed Luca to death.
On February 12, 2009, serial abuser Ziaolleh Abrahimzadeh assaulted his wife Zahra and eldest daughter. He also threatened to kill both their son and youngest daughter. Eleven days later, they packed their belongings into their car and drove to the Salisbury Police Station, in Adelaide's northern suburbs, to report the incident.
Apart from issuing Ziaolleh Abrahimzadeh with a largely useless piece of paper known as a domestic violence restraining order, SAPOL essentially did nothing. Apparently, bashing your wife and adult daughter and threatening to kill your family doesn't warrant an arrest in South Australia.
Thanks to SAPOL's utter disinterest in bringing Ziaolleh Abrahimzadeh to justice, he remained free. This lack of consequence emboldened him to approach Zahra at a function in the Adelaide Convention Centre on the evening of March 21, 2010, and repeatedly stab her to death in a frenzied attack occurring in full view of shocked onlookers.
As the subsequent Coroner's Inquest report stated:
"Ziaolleh was never dealt with by the criminal justice system for his alleged offending. That was because the first step in the criminal justice process, namely arresting and charging Ziaolleh for the reported offending, never occurred at anytime during those 13 months … In my opinion the single most important and decisive step in deterring Ziaolleh Abrahimzadeh from acting violently towards his wife was to arrest and charge him for his alleged offences."
SAPOL Does Excel at Something: Sexual Harassment
To be fair, the largely useless SAPOL does show remarkable proficiency in some things: Revenue raising, harassing innocent people, standing over brothels, covering up for pedophiles, forming lucrative alliances with drug dealers and other organized criminals – and sexual harassment.
In 2016, the Equal Opportunity Commission released a report titled Sex Discrimination, Sexual Harassment and Predatory Behaviour in the South Australian Police Force. The EOC found there was a toxic "boys' club" culture within the force. When compiling its report, the commission heard from around 2,000 respondents – around 30 per cent of SAPOL. Of those respondents, 36 per cent had personally experienced sexual harassment and 45 per cent of respondents had personally experienced sex discrimination.
Almost two-thirds – 61 per cent – perceived sexual harassment and predatory behaviour occurred in the organisation.
The report found discriminatory and harassing behaviour was seen as being "acceptable and normalised" at SAPOL.
As an indication of the kind of the sleazy dickheadedness female recruits can expect when they join SAPOL, in 2016 a female officer alleged the lads at SAPOL sent her explicit text messages, ranked her attractiveness, and drew genitalia in her hat. The officer, who filed action with the SA Employment Tribunal for sexual harassment, told the Industrial Court her male colleagues touched her and sent her crude messages while she was working, including one about a "gluten-free penis."
What a bunch of winners.
It's a sobering thought to think these are the people you're supposed to call when you've been sexually assaulted or raped, or subjected to domestic violence.
The EOC found the reported incidence of predatory behaviour (i.e. the misuse of authority or influence to exploit others for sexual or other personal gratification) in SAPOL was 21 per cent higher than the general population figure (49 per cent vs 28 per cent).
Take another look at those figures, and let them fully sink in for a moment. SAPOL personnel – the people entrusted to uphold law and order in South Australia – are almost twice as likely to be sexual predators than the average person!
It's bad enough that Australia's disgraceful rate of rape and sexual assault ranks among the highest in the world (in the early 2000s, Australia ranked second only behind South Africa for per capita rape incidents; more recently, Australia ranked 11th). But rather than resolve to earnestly tackle this problem, the misogynists who work at SAPOL are far more likely to be sex predators than the average person.
SAPOP: South Australian Protectors of Pedophiles

The sociopaths at SAPOL don't just dabble in 'traditional' sexual harassment. Click on the "Child Abuse & Pedophilia" category in the sidebar and you'll see numerous SAPOL officers have molested underage girls.
One of these repugnant individuals was former South Australia Police chief inspector Graham Bennett Fraser, whose victims were aged nine and 14 when he started sexually abusing them. When SAPOL became aware of his offending, it simply brushed the matter under the carpet. Instead of charging Fraser for his molestation, his colleagues at SAPOL merely demoted him by one rank, from chief inspector to the rank of inspector!
And in 2014, several SAPOL detectives revealed they were suddenly told to shut down a promising pedophilia investigation by SAPOL Assistant Commissioner Colin Watkins. The investigation initially centred around five Adelaide pedophiles but subsequently uncovered links between this group and interstate and international pedophiles. As no reason whatsoever was given by Watkins for closing the investigation, it can only be assumed the detectives were on the verge of uncovering information that would have proved severely compromising for influential pedophiles.
Perhaps SAPOL should change its PR slogan from "Keeping SA Safe" to "Molesting SA"?