Former SA Police officer Mark Harris Sexted Under-Age Girl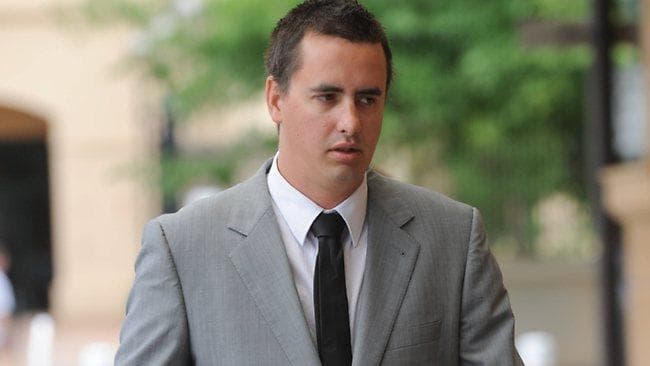 Former SA police officer Mark David Harris, who admitted to sex-texting and trying to groom a child for sex, attending the District Court in Adelaide.
Depravity is an all-too common quality among South Australia Police officers, many of whom seem to have an extremely difficult time keeping their grubby hands off children and underage teens.
Joining the long list of SAPOL officers who formed inappropriate relationships with underage minors is Mark David Harris.
In 2012, Harris, then 28 and of Glenelg North, pleaded guilty to making a communication for a prurient purpose, possessing a firearm without a licence and unlawful possession.
The offences related to a series of SMS texts between Harris and the girl, aged 15, from July 16, 2010, to August 7, 2010.
In sentencing, Judge Steven Milsteed said Harris met the girl while investigating a missing persons case.
"She grabbed your mobile phone and entered her number into it," he said.
At this point, a decent individual would have reminded the girl he was an officer of the law and promptly deleted the number. However, Harris – a member of a police force known for its rampant sexual predation, harassment and discrimination – figured it would be a great idea to exchange explicit SMS messages with the girl.
"For a period of several weeks, you and she exchanged numerous text messages of a sexual nature, and discussed engaging in sexual conduct," said Judge Milsteed.
"The communication came to the attention of her carer and was reported to police."
"As a police officer, you were in a far greater position of authority than an ordinary person and this makes your offending that much worse," he said.
"You appreciated her vulnerability and knew full well she was (a ward of the state). But it must be borne in mind that you were mentally sick at the time."
He said Harris was "greatly distressed and deeply remorseful", and attempted suicide.
Harris's theft of a police-issue weapon and ammunition from his station, while off-duty, constituted the firearms offences.
"It is apparent that, until this offending, you were a good police officer," Judge Milsteed said.
He said Harris developed bipolar disorder six years before the offending, but was never diagnosed.
"That is a very sad aspect of this case," he said.
He jailed Harris for 15 months, but suspended that term on condition of a three-year, $1000 good behaviour bond.
He ordered Harris be supervised for the first two years of his bond and undertake psychiatric help.
Sources:
Former SA Police officer Mark Harris avoids jail for under-age sex texting
Police officer Mark Harriss given suspended jail sentence for under-age sex texting [sic]