Assault Allegations Against Gutless SA Police Thug Benjamin Oliver McLeod Revealed in Court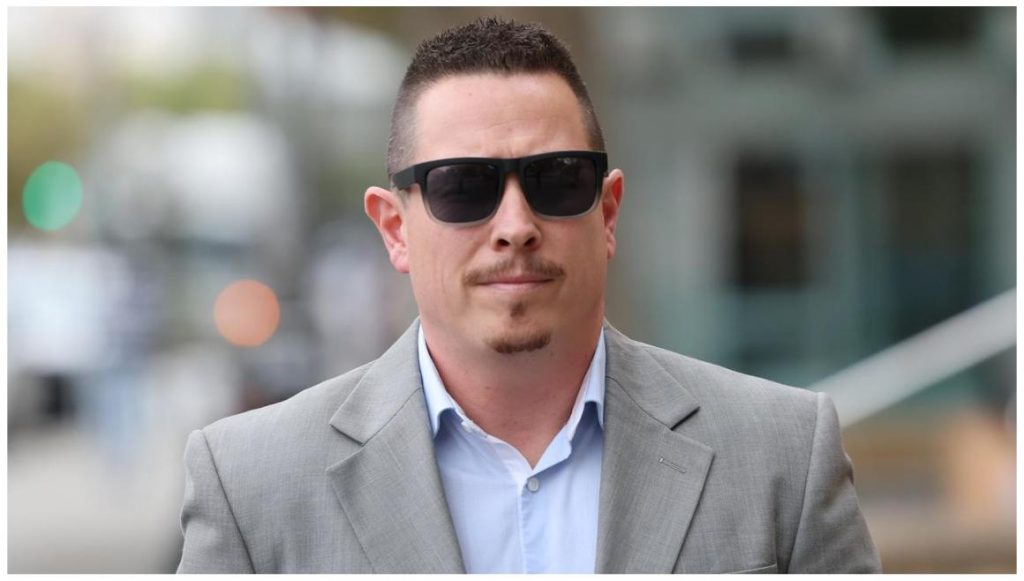 Suspended SA Police officer Benjamin Oliver McLeod, 40, of Bridgewater appeared in the Adelaide Magistrates Court on Thursday.
McLeod is charged with eight separate charges of aggravated assault stemming from four separate incidents in August and December 2020.
McLeod was arrested and charged over the assaults after a review of body worn camera footage.
During the hearing, Magistrate Kym Millard ruled that McLeod may face separate trials for each alleged incident.
"It will form part of the prosecution case in the trial of these matters that the acts committed by the defendant … in each case and on each count demonstrates a tendency to use excessive force beyond what would reasonably be required," he said.
He said that in the first alleged incident, on August 6, 2020 at Glandore, McLeod was captured on body worn camera footage allegedly kneeling on the neck and head of a suspect.
The body cam footage shows McLeod is one of the many gutless coward attackers that lurks in the ranks of South Australia Police.
"Some approximately five minutes after the handcuffing commences the defendant is seen, on the prosecution case, dragging (the suspect) across the road and dropping him on a gutter's edge," he said.
McLeod threw the accused to the ground while making comments to suggest his actions were "potentially deliberate". Millard said those comments included the snide McLeod saying "whoopsie" or "oh sorry" while "knowingly forcing conduct to the upper body".
"It is the prosecution case that the use of that force was unjustified, unnecessary, unwarranted and therefore constitutes an assault," he said.
The court heard on December 3, 2020, a number of officers were involved in an arrest in Glenelg. Body-cam footage allegedly showed McLeod striking another detainee "multiple times around the neck and head"
"It's the prosecution case that this conduct went beyond anything that might have been reasonably necessary in the circumstances to secure the detainee," Millard said.
Three days later, on December 6, 2020, he was allegedly involved in two separate and unrelated arrests at Black Forest and Glandore.
In the Black Forest incident, McLeod allegedly struck a suspect during the arrest. It is alleged McLeod used unnecessary force to the upper body of a detainee, particularly the head region.
The court heard body-worn footage picked up the detainee complaining about pain and the ability to feel in his hand, before McLeod struck the detainee twice.
In the Novar Gardens incident, Millard said McLeod allegedly repeatedly punched the detainee. The detainee was handcuffed then forced to the ground where McLeod allegedly used his hand to push the detainee's head to the ground and then holding it there with his knee "for some time".
Dragging people to the ground and deliberately forcing their head into the pavement is a common tactic of SAPOL cowards. Another common tactic used by these gutless thugs when they are assaulting you is to repeatedly scream out "STOP RESISTING!" when you are not only not resisting but incapable of resisting because you are face down on the ground with a horde of goons atop you. The reason cops do this is for the body cams; they pretend you are resisting and vocally express this lie so that their proclamations are recorded on video and can hopefully be later used as evidence to justify their heavy-handedness. If you find yourself in this position, immediately reply to their lies by loudly and clearly stating you are not resisting and cannot resist because they have you tied up like a pretzel.
Don't think for a moment that because you are not a criminal you will never find yourself in this position. Australian police are notoriously predatory and often criminal bullies whose main priority is revenue generation, suppression of dissent, and harassment of those who oppose their malfeasance.
Millard found McLeod should face trial separately for each incident. McLeod's defence counsel had argued at an earlier hearing that there would be "issues of prejudice" if the four incidents were tried together.
Considering the matters together might give the impression that McLeod is a serial thug.
Which is exactly what the body cam footage shows him to be.
Sources:
Assault accused police officer Benjamin McLeod wins separate trials over 'excessive force' allegations. The Advertiser, May 4, 2023.
SA Police officer dropped detainee on gutter's edge after kneeling on head and neck, court told. ABC, May 4, 2023.