Senior SAPOL Officer's Grandson Receives Unusually Lenient Treatment After Crashing into Several Cars and Threatening, Assaulting Cops
Police and emergency services were called to Sando Ave, Tranmere earlier this month after reports a white Holden 2012 Cruze hatchback had crashed into several parked vehicles.
The driver, whose grandparent is a senior female SA Police officer, was witnessed acting erratically before "taking a swing" at attending officers.
Witnesses claimed that during the confrontation with officers, the man "mentioned" his grandparent's name before yelling: "Let them know who they work for".
They said officers seemed "really surprised" and asked how he knew the senior officer.
Neighbours told how they heard several loud bangs and shouting on the northeastern suburban street just after 8pm on Tuesday, May 9.
The man, who is also not being named, allegedly crashed into cars including a white Toyota Landcruiser and silver Commodore sedan belonging to Jasdeep Pahar, 31.
"The police were trying to calm him for between an hour and 90 minutes," Mr Pahar said.
"He couldn't even move and could hardly stand. He mentioned a name and the police were really surprised … One said 'How does he know her?'".
"He then said 'Let them know who they work for', and then he mentioned her name again."
Mr Pahar, a truck driver, said he was now "struggling to get my car fixed" due to insurance detail problems.
"He was yelling, getting quite aggressive"
Video capturing part of the incident shows a relative trying to restrain the man, wearing dark tracksuit pants, white shoes and a grey top, on a footpath as officers watch from the street.
The rampaging male shoves his relative into a fence, before jumping around and challenging the relative with his fists in a boxing-style pose. Police move in after the man throws a flurry of punches towards the relative.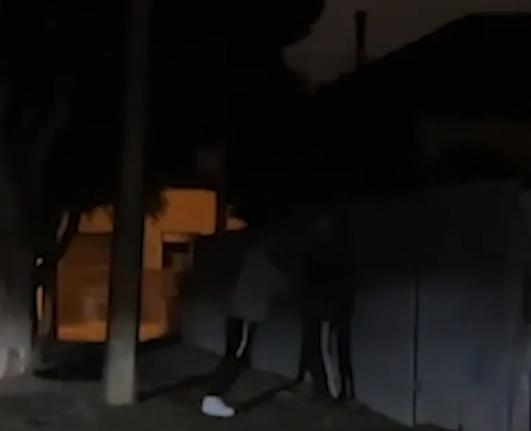 As officers approach, the man becomes more aggressive. "You need to calm down right now," an officer says, which sparks an angry expletive from the grandson. The grandson taunts the officers, who react only after one appears to get hit in the face by the man.
Officers appear to use capsicum spray before tackling him to the ground and arresting him. The suspect yells about his leg as officers slap handcuffs on him.
He was taken into custody. It is believed the incident is captured on police body cameras.
A third neighbour, who also did not want to be named, called police over safety concerns.
"He was yelling and getting quite aggressive, kicking tyres," they said.
A Senior Cop's Grandson Goes On a Rampage, Smashes Multiple Cars, Attack Cops, then Gets Let Off Without Charge. That's Not Suspicious, Is It?
A supporter who answered the door at a northern suburbs home linked to the man, refused to answer questions on Tuesday.
"That's already been dealt with, we have no comment," he said before slamming the front door shut.
A police spokeswoman said: "Police attended a mental health incident at Tranmere."
He received an "adult caution" after this "mental health incident".
"Initially the male was arrested for disorderly behaviour, but was later given an adult caution following completion of the investigation and his subsequent transfer to hospital."
"This matter was dealt with locally by Eastern District patrols."
The senior officer in question would not comment.
To recap: A person acting in a deranged manner goes on a rampage, and crashes into several cars. Not content with the damage he has already caused, he begins causing a further ruckus in a quiet suburban street. Concerned residents call the police, who arrive and watch as the grandson of one of their highest-ranking seniors threatens and tries to attack a relative. He then threatens and taunts police officers. Despite the provocation, these members of the normally thuggish and highly vindictive SAPOL are suddenly overcome by remarkable patience, spending 60-90 minutes trying to calm him down. It is only after he lunges at one of them and hits them in the face that they finally grab him and arrest him.
Several residents, through no fault of their own, are now stuck with damaged vehicles.
Despite the multitude of potential charges arising from his crime spree, police charge him only with "disorderly conduct".
This charge is then miraculously later dismissed, the man is given an "adult caution" and the entire event is quietly written off as a "mental health incident."
It goes without saying that if anyone not related to a police officer did the exact same thing, they would not receive such lenient treatment.
South Australia Police: Smelly as it ever was.
Source
Senior police officer's grandson cautioned 'after threatening police during car crash dispute'. The Advertiser.