South Australia Police Made 49 Blunders in Lead-Up to Man's Murder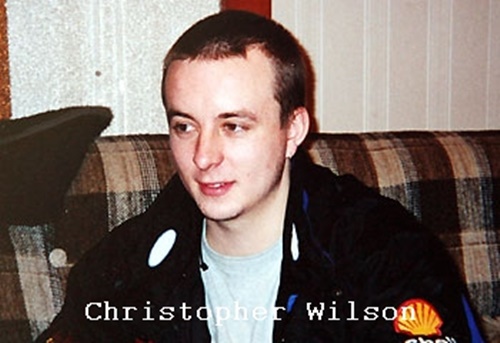 South Australia Police (SAPOL) bungled 49 times in the lead-up to the murder of a man who reported being shot two days before he was murdered in cold blood, the State Coroner found in 2008.
State Coroner Mark Johns handed down his inquest findings after investigating the circumstances surrounding the death of Christopher Stuart Wilson, 23.
Wilson was murdered on 27 February 2004 at Hillcrest by 17-year-old Hootan Beigzadeh, who shot Wilson three times – once in the back and twice in the head – as he lay on the ground.
Two nights earlier, Wilson and some friends had gone to the Holden Hill police station to report being shot at by a man, who turned out to be Beigzadeh, during a streetside confrontation.
A shot fired by Beigzadeh that night had ricocheted off the road and struck Wilson in the right leg.
Johns conducted a 26-day inquest into Mr Wilson's death and handed down his 101-page findings on 6 April 2008.
He identified 49 deficiencies in the police work that preceded Wilson's murder.
While none directly caused Wilson's death, Johns said "I do believe that a number of the deficiencies identified by me can be regarded as events, which had they been handled differently, might potentially have changed future events, including, possibly … the fatal shooting of Christopher Wilson."
"These events were opportunities for intervention which had the potential to directly or indirectly prevent that fatal outcome."
"While those events were not causes of the fatal outcome, they were components of the circumstances leading up to the fatal event."
Some of the deficiences included:
Failures by police to confront Beigzadeh over a complaint he tried to extort $30,000 from a man while armed, four months before Mr Wilson was killed;
Flawed judgment by police taking Mr Wilson's report of being shot;
Failure by officers to "assume leadership".
Deputy Police Commissioner Gary Burns told the inquest police "underestimated" the seriousness of Wilson's report and should have shown greater leadership in the case.
Outside the coroner's court, Mr Wilson's mother, Julie, said the report signified the end of a four-year quest for truth about the circumstances surrounding her son's death.
She said SAPOL's actions were "unforgiveable."
"Forty-nine too many errors were made," she said.
Ms Wilson told the inquest her son told her that police were "dismissive" when he reported being shot in the leg.
There was absolutely no excuse for such dismissiveness, which is unfortunately typical of SAPOL. Beigzadeh was already known to police as a dangerous and disturbed individual.
Beigzadeh's Criminal History
In the early hours of Sunday, 30 March 2003, Beigzadeh was involved in an altercation with an unknown person at McDonald's on West Terrace, Adelaide. At about 5:30 am he returned to the McDonald's wielding a long-barrelled pump action firearm. He confronted patrons, waving the firearm at them apparently looking for the person with whom he had the earlier altercation. He was shouting that he was going to kill that person. He pointed the firearm at a number of people inside the restaurant while holding his finger on the trigger. Beigzadeh was arrested later that day.
On 22 June 2003, despite being on bail for the McDonald's incident, Beigzadeh was arrested after doing 'burn–outs' in Gouger Street. During the arrest, a Samurai sword was found under the driver's seat of his car.
Sometime around June 2003, warnings were placed onto the Police Information Management System (PIMS), SAPOL's computerised internal information-sharing system that Beigzadeh "may be armed" and suffered a "psychological/psychiatric disorder."
In other words, SAPOL failed to act on Wilson's complaint even though they knew full well Beigzadeh was an unhinged individual with a habit of carrying illegal weapons.
The inquest heard Wilson and some friends went to confront Beigzadeh two days later because of a lack of action by police (civilians are told not to "take the law into their own hands", but often feel they have little alternative when their complaints receive little interest and empathy from SAPOL).
Beigzadeh was sentenced to life in jail for what Justice White described as an "execution style killing," with a non-parole period of 16 years and 6 months.
SAPOL Went Into Cover Up Mode – As Usual.
Because of their appalling handling of the Wilson case, numerous police officers were investigated after a complaint by Ms Wilson. The Police Complaints Authority had recommended disciplinary action against four named police officers; Detective Brevet Sergeant Gregory Paul Ranger, Detective Senior Constable Rohan Wynfield Crawford, Senior Constable Michael Redding and Sergeant Glenn Mickan. However, by the time of the inquest it was still not known what, if any, action had or would be taken against the officers.
Prior to the commencement of his Inquest, Counsel Assisting Mr Johns wrote to the Commissioner of Police seeking access to an assessment of the Police Complaints Authority. Both the Commissioner of Police and the Police Complaints Authority refused to provide a copy of the assessment to the Court for use in the Inquest.
Johns expressed concerns about police disciplinary procedures, noting that processes relating to police involved in the Wilson case had still not been completed three-and-a-half years after commencement.
He recommended the Government review the Police (Complaints and Disciplinary Proceedings) Act and that secrecy provisions in the Police Complaints Act be amended so relevant evidence can be disclosed to the Coroner's Court.
Sources
INQUEST INTO THE DEATH OFCHRISTOPHER STUART WILSON conducted by Mr Mark Johns, State Coroner, South Australia
Police made 49 mistakes in lead-up to fatal shooting, coroner finds