South Australia Riot Police Storm Family Home at 1AM Because of Slightly Delayed COVID Test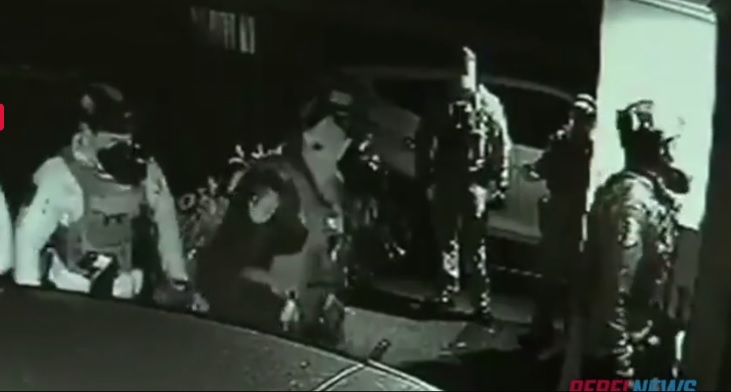 On 5 October 2020, at 1am in the morning, police armed with automatic weapons, gas masks, bulletproof vests and a battering ram swarmed on a home in Brahma Lodge, South Australia.
Officers completely surrounded the property, invading neighbouring backyards to do so.
Onlookers awoken by the commotion and the police helicopter hovering above thought there was a hostage siege taking place at the house.
But there was no siege. There were no terrorists or criminals holed up at the premises, nor were any drugs or weapons being stashed there.
The premises were in fact the home of law-abiding Mehmet Erhan, his wife Angela, and their two young children.
It was Mehmet the jack-booted police were after, with six officers at his front door yelling for him to come out.
CCTV footage from the family home (see below) captured one of the officers shouting: "If you don't comply with the direction you may be arrested, do you understand?"
So what was the 'crime' they were accusing Mehmet of?
Not getting a COVID-19 test fast enough.
That's right – there was no crime. Mehmet had just returned to Adelaide from Melbourne, where he was working. Mehmet had been on his work assignment for a few months, and had returned to look after Angela, who was ill and taking medication.
One of the lockdown rules was that he had to undergo a COVID-19 test upon arrival.
So Mehmet booked in for the test, quarantined at home and waited for the government's mobile COVID testing unit.
There was a hitch, but it was entirely the fault of the notorious government agency SA Health. Mehmet promptly signed up for their first available time slot, but that first available appointment was a few hours outside of the 24-hour rule.
And that's when the goon squad came storming in. The cops told Mehmet they wanted to "escort" him to the Pullman Adelaide (a so-called 'medi-hotel') for non-compliance with an order allegedly given in regards to COVID-19 testing.
But Mehmet had complied with the order, and the slight delay was entirely the government's fault. The mobile COVID test was literally only hours away, later that morning. Mehmet asked the police to call the mobile clinic to confirm he really was on their list and that he really was complying.
Mehmet and Angela pleaded with the officers not to take him, explaining to them that he was looking after her, and that his children also needed caring for.
Angela's doctor had sedated her shortly before the incident for severe neck injury pain, and Mehmet was her only support.
Angela told them she had a spine injury, that she had been sick for three days and had just been sedated.
The sociopathic cops did not care. One even had the audacity to respond, "well, how did you manage while he was away for this whole time?"
"I didn't, hence why he came home," Angela informed the callous cop.
The officers began interrogating Angela about her injury, the implication being that she was lying.
There was no reasoning with the police who, as many victims of their harassment can attest, are routinely beyond reason. "They just refused," said Mehmet, "they were out for blood. It all seems a bit far-fetched for a test."
The CCTV footage captures the semi-literate officer in charge yelling at Mehmet, "Ay listen to me … listen, right … I understand, I understand you got a version of events, I'm telling you what's happening tonight. If you do not come out and go to the Pullman hotel we're coming in and arresting you, right, that's the only options."
"That's the options mate, that's what's happening, right, have some thoughts," continued the officer, who clearly wasn't the sharpest tool in the shed.
Faced with a large group of heavily armed SAPOL thugs threatening to smash down his door with a battering ram, Mehmet reluctantly went outside and was promptly arrested, handcuffed, and "very forcefully" taken to a city watch house.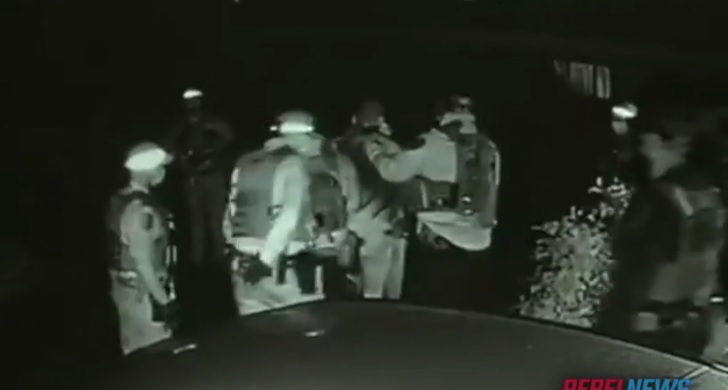 CCTV footage of Mehmet being led away by police.
He was detained at the hotel for 14 days, fined $1,000 and charged with two counts of failing to comply with a direction.
It must be emphasized yet again that Mehmet did not disobey any orders he was given at the border. The delay that had triggered SAPOL's psychotic response was entirely the government's fault.
SAPOL's disgraceful, Stasi-like behaviour was clearly way over the top. Not only had Mehmet done his best to comply with the test order, it must also be remembered the underlying excuse for this behaviour was a largely asymptomatic influenza virus with a 99+% survival rate. A recent and extensive analysis by respected Stanford University professor John PA Ioannidis puts the average global infection fatality rate from COVID-19 at 0.15%. That's on a par with regular influenza outbreaks.
And to top off the already lengthy list of absurdities, when Mehmet's test result came back it was negative!
As ReigniteDemocracyAustralia's report stated, "The police presence was so over the top that one must wonder, was Mehmet's family used as a training drill?"
And if the answer to that question is yes, it must also be asked if it was mere coincidence the notoriously racist SAPOL targeted a man of distinctly Middle-Eastern appearance to be the victim of this training drill?
"It was probably one of the most confronting nights of my life," said Angela. "One of the neighbours mentioned to us that she thought that me and the kids were under a hostage siege situation, she was petrified for us, and she was in tears when she saw me the next day."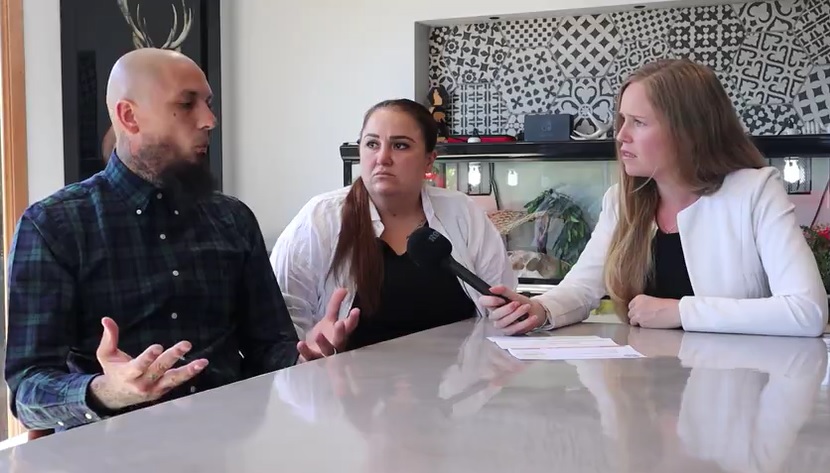 While the event has already caused significant trauma for Mehmet and his family, their problems are far from over.
Mehmet is still facing potential jail time over the ridiculous criminal charges and has already had to attend a court hearing.
He and his struggling family are now faced with considerable legal fees. Prior to his Melbourne work stint, Mehmet had not worked for seven months because the government's draconian lockdown response had effectively killed off available work in his industry in SA. Hence the Melbourne work trip.
Despite his perilous work situation, Mehmet does not qualify for legal aid.
If you are sickened by the totalitarian and inhumane behaviour Mehmet and his family have been subjected to, there is a way you can help. After learning of Mehmet's ordeal, Rebel News, which has done a great job of reporting police harassment and brutality during the lockdowns, has included him in its legal funding campaign. The Rebel News campaign has already resulted in a number of court victories for innocent Australian citizens against these unlawful and unconstitutional COVID fines. You can contribute to the Rebel campaign at the following link:
https://www.rebelnews.com/ftf_australia_donation
Apart from Channel 7, which seems to be the only major media outlet interested in addressing the abundant malfeasance of South Australia Police, the mainstream media has ignored Mehmet's story.
However, both ReigniteDemocracyAustralia and Rebel News have posted reports of the incident, containing interviews with Mehmet and Angela. Both reports can be viewed below: