SAPOL Officer Andrew Allan Jaunay Receives Suspended Prison Sentence for Assaulting Teenager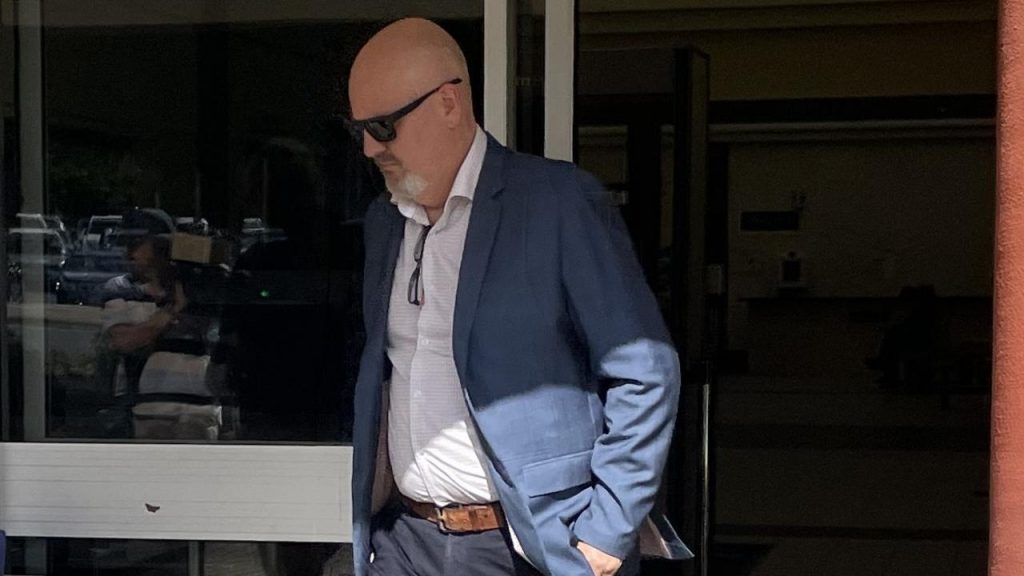 Former police officer Andrew Allan Jaunay has received a suspended prison sentence for assaulting a teenage boy in Whyalla.
Jaunay, 43, of Morphettville, and another officer, Sean Hobbs, 34, of Torrensville, were charged with aggravated assault causing harm after accosting and attacking Matthew Odgers in 2013.
The incident occurred in Whyalla when the slightly-built Odgers was only 17 years old.
Upon sighting Odgers, the officers performed a "stop and search." Giving evidence, Odgers said he was under a court-enforced curfew and "two minutes from home" when he was stopped by the officers. He said the duo found a drug pipe, belonging to his friend, in his possession before he asked if he could go.
"The bald officer (Juanay) hit me and said 'you can f—ing leave when I tell you to leave," Odgers told the court.
"I was intimidated, in shock, didn't understand the situation … I was scared."
"The bald officer said 'you think you're tough?' and struck me with the back of his hand with enough force to knock me back and roll on to the ground."
Hobbs allegedly joined Juanay in the assault when he "put his hand around my throat and was yelling at me, telling me to shut up … I could breathe but I could barely talk."
Odgers' counsel told the court the boy was "lifted off the ground and slammed down" and Hobbs continued to "squeeze and choke" him, swearing at him and telling him to "shut his mouth".
Not content with physically assaulting a slightly built boy, the duo laid on the tough talk and brazenly boasted they would simply deny the assault.
"Now if you want to tell your mum that we f***ing belted you, guess what, go right ahead … we will say we didn't do it," said Jaunay.
"Your choice, you want to be a big man and play with the big boys, you can play … just remember I ain't going anywhere, pal … I'm an old man, I'll hunt you down."
What an idiot.
Jaunay told his victim he was "a very cheeky boy."
After receiving a panicked call from her son, Ms Odgers rushed in her car to retrieve him. Upon arriving at the scene, she immediately noticed signs of assault, including marks on his face.
Ms Odgers questioned the officers as to what happened and asked for their names. Audio recording of the incident (see below) showed her demeanour to be reasonable and non-aggressive, yet Juanay was quite rude and disrepectful in return. Both officers failed to state their names despite her repeated requests.
"If you believe that I'm assaulting people on the side of the road, that I would do that to a child in the street, you must have rocks in your head," the arrogant Juanay told Ms Odgers.
Ms Odgers told the court she found this "quite insulting and unprofessional … I said 'looking at Matthew, yes, I do believe him' because I could see he had marks on his face and was quite shaken up."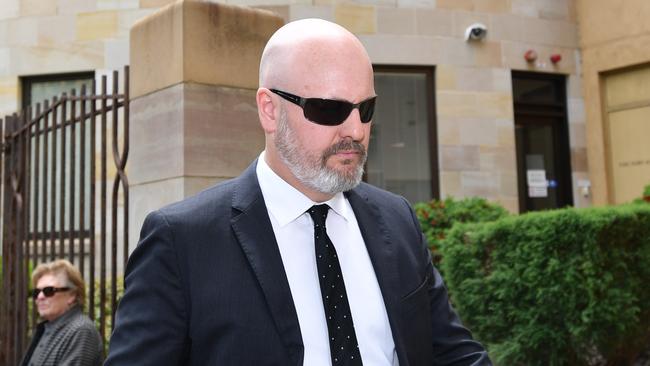 Andrew Allan Jaunay, the ex-cop who assaulted a skinny teenager, threatened to stalk him, and spoke like a disrepectful jerk to the boy's mother.
Ms Odgers told the court that Jaunay was "aggressive, quite adrenaline-pumped" and "quite erratic" after knocking her son to the ground. "When I pulled up in my car, he (Jaunay) aggressively pushed a piece of paper through my window saying 'there's no need to get out of the car, you need to sign this, we just have to talk to Matthew'," she said.
"He was quite adrenaline-pumped, breathing heavily and quite erratic."
Juanay is Sentenced
As is par for the course with the hopelessly corrupt SAPOL, both officers flatly denied the assault. Unfortunately for them, Odgers was able to reach into his pocket and activate his phone which captured audio footage of the aftermath.
The audio footage was dominated by Juanay's voice, allowing Hobbs to be acquitted of the charge, but Juanay was convicted in November last year.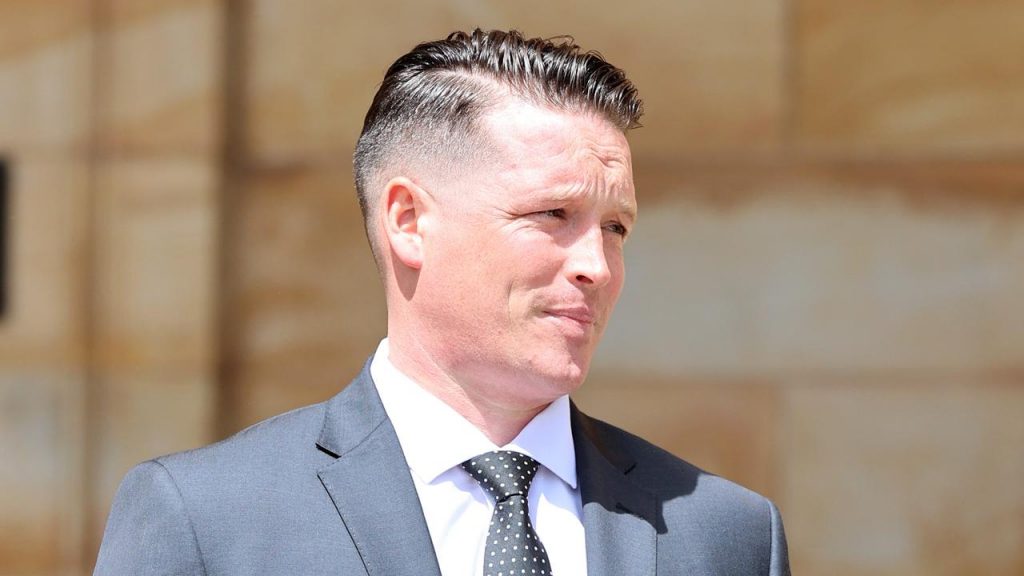 Unlike Juanay, Sean Hobbs was acquitted and escaped punishment for the 2013 assault on Odgers.
Appearing at the Elizabeth Magistrates Court last Tuesday, Jaunay received a three-month suspended jail term, subject to a one-year good behaviour bond.
The very lenient sentence was attained after Juanay pulled a Norman Hoy, miraculously transforming from loud-mouthed tough guy in the street to poor victim in court.
Jaunay's lawyer submitted two psychologists' reports to the court. Magistrate Ben Sale said the reports indicated Jaunay was suffering from PTSD before the incident due to "persistent traumatic events working as a police officer."
"(The doctor) says work-related stressors including being attacked and beaten, confrontations with angry and violent offenders on your own and a lack of support as you perceived it from South Australia Police were, and are, causative of your symptoms," Sale said.
Just how any of this justified the "symptom" of taunting and physically assaulting a skinny, non-threatening, unarmed teenager by himself was never explained.
These doctors and the court never appear to have asked why, if Juanay felt the need to lash out because of PTSD, he chose a skinny teenager who posed little threat to him as opposed to, say, a muscular outlaw biker?
Was PTSD truly a contributor to the assault? Or did the assault occur because Juanay – like so many of his colleagues – was a cowardly thug and power-tripping bully who viewed a lone 17 year-old boy as an easy target?
Sale admitted that of the alleged "traumatic events" experienced by Juanay, "not all occurred prior to the date of this event," leaving one to wonder how they could be submitted as exculpatory factors for the assault – and for Juanay's subsequent dishonesty.
Sale said from his assessment from the doctors' reports, Jaunay should not have been an active police officer on the evening the offence occurred.
Sale said it was not lost on him that without Mr Odgers' phone recording, he may not have been satisfied of Jaunay's guilt.
It is a fact that many assaults by police result in impunity for the offenders because the victims did not have access to video or audio recordings of the incidents. Had this been the case with Odgers, it is very likely Juanay would have escaped punishment – and the magistrate even admitted as much.

The audio recording of Juanay's threats to Odgers and his highly unprofessional interaction with the boy's mother.
"In my view, and having regard to the fact that this was an offence is aggravated, was committed against someone under the age of 18, who suffered physical injury as well as psychological consequences and the effort you made to discourage the victim from making a claim, the conclusion I have reached is that the offence is of such seriousness that the only justifiable penalty is imprisonment," Mr Sale said.
He said Jaunay's behaviour since the event and work as a police officer contributed to his decision to suspend the jail term.
Given that Juanay's "behaviour" included flatly denying an assault he had already admitted to on a damning audio recording, many people will find it hard to share the magistrate's sense of leniency – especially those who have received similar or harsher sentences for much lesser offences.
Juanay's fear of ending up in jail alongside people he and his comrades had taunted and arrested apparently caused him much anxiety. "When asked how you might deal with incarceration both (doctors) gave dire predictions as to your ability to cope."
Perhaps Juanay should have thought of that before mouthing off like an unhinged goon and assaulting a skinny kid?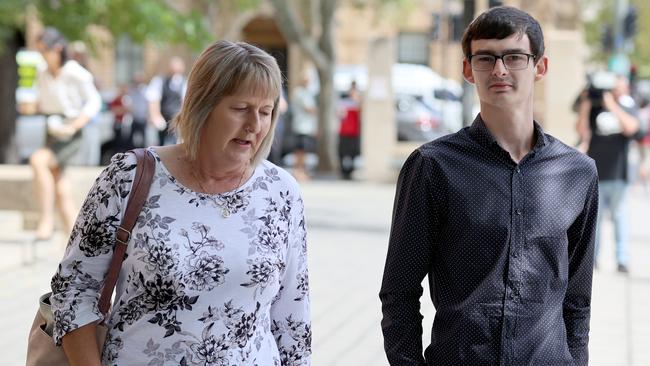 Matthew and Maria Odgers outside the Adelaide Magistrates Court.
Sources
'I'll hunt you down': Court hears recording of confrontation as two SA Police officers stand trial charged with aggravated assault. The Advertiser, March 1, 2021.
Mother of boy allegedly bashed by SA police officers at Whyalla thought they were trying to help him. The Advertiser, March 2, 2021.
Police officers to be prosecuted over alleged assault of teen after judge reverses decision. ABC, May 6, 2020.
South Australian police officers still on duty despite assault charges stemming from ICAC investigation. The Advertiser, July 28, 2017
Audio emerges of former police officer Andrew Allan Jaunay, sentenced for assaulting teenage boy. The Advertiser, March 3, 2022.