Another Product of SAPOL's Rape Culture, Martin Duku, Jailed for Multiple Sexual Assaults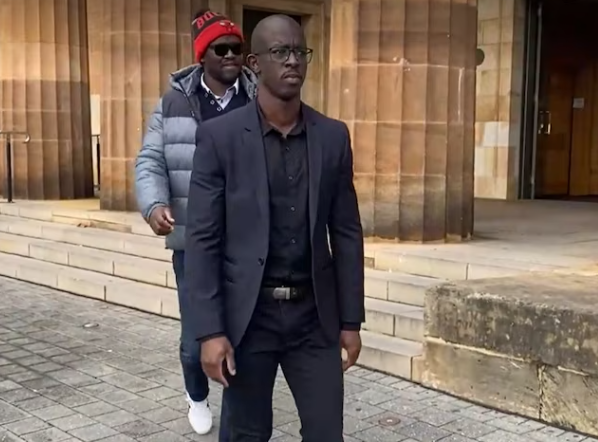 A 2016 Equal Opportunity Commission Report found the sociopaths at SAPOL were far more likely to be sex predators than workers in other industries. Upholding this fine tradition is serial sex predator Martin Duku. This slimebag was jailed last week for sexually assaulting two women in Pt Augusta, one of whom was a fellow member of South Australia's largest street gang.
Duku, 24, was found guilty of three counts of indecent assault while he was working his first job based at the Port Augusta Police Station in 2019.
He was 19 at the time.
Duku sexually assaulted one of the victims while in a car at a secluded location and on a separate occasion went to a victim's home uninvited late at night.
In the latter incident, Duku jumped the victim's fence while intoxicated and banged on her front door — the 21-year-old at the time reluctantly let him in since she was worried about his drunkenness.
He was asked to sleep on the couch, but soon afterwards he went into her bedroom uninvited and undressed.
According to court testimony, Duku repeatedly referred to the woman as a "bitch" and a "slut." 
Duku's lawyer, Kathryn Waite, asked Magistrate John Wells to suspend her client's sentence, claiming he was a victim of SAPOL's alcoholic binge drinking culture and that he would be at risk in jail because of his occupation.
The correct answers to these concerns are "so what" and "too bad".
Waite said the former cop was caught up in an alcohol-fuelled party culture while working in the regional city.
"There was a culture of binge drinking and what was described as marathon drinking sessions after seven-day-rotations — drinking for many hours after one has finished a night shift," she previously said.
The court heard a medical expert diagnosed Duku as suffering from alcohol abuse disorder during his offending.
Allowing yourself to be a weak-willed drunken loser in order to fit in with a bunch of weak-willed drunken losers is no excuse for sexual assault.
Waite also said Duku "was emotionally immature". From our observations, so are the overwhelming majority of South Australian police officers. Many male police officers are immature, misogynistic, cowardly thugs, while SAPOL's female contingent is dominated by angry lesbians who compete to be bigger assholes than their male counterparts. This is the psychological cesspool that supposedly preserves law and order in this state, where CBD crime is running rampant and the South Australian road toll is 55% higher than the same time last year, and the highest it's been for several years. The road toll in the metropolitan area, home to the most cops and revenue-raising cameras, is a whopping 117% higher than this time last year.
This is what happens when you allow the lunatics to police the asylum.
Waite also claimed Duku would require protection in jail after the recent alleged murder at Yatala Labour Prison.
Well cry us a river. What's good for the goose is good for the gander. If Duku was okay with helping send people to jail for far less serious offences, then he should have no problem with going to jail for breaking the very laws he was sworn to uphold.
If disgruntled inmates, offended by Duku's outrageous hypocrisy, decide to give him a little extra justice over and above the very lenient 15-month sentence he received, the alcoholic sex predator needs to chalk it up as a life lesson. As we've seen over and over, SAPOL officers have no qualms about dishing out extra-judicial beatings on a regular basis, so they can hardly complain if the people they sent to prison decide to give them a taste of their own medicine.
Duku was charged with three counts of indecent assault, each count carying a maximum penalty of eight years imprisonment. However, Duku escaped with a 10-month non-parole period.
Police officers are in a unique position of privelege, power and responsibility, and if they breach the trust that has been granted to them, they should receive much harsher sentences than a civilian convicted of similar crimes.
Crying that life will be tough in prison because of their occupation is basically saying they should be given a free pass because they are cops. Claiming you should be able to break the law with impunity because you are a cop is self-entitled absurdity. SAPOL, unfortunately, is full of self-entitled sociopaths.
Enjoy prison, Duku. If only you were given a much longer sentence, because you bloody well deserve it.
Sources
Former cop Martin Duku jailed for indecent assault at Port Augusta, despite safety concerns. ABC News.
Port Augusta police officer blames binge drinking for sexually assaulting two women, court hears. ABC News.
Former SA Police officer Martin Duku jailed over indecent assault. 7NEWS.